BOSS BAGS INSTALLATION INSTRUCTIONS FOR #31 BAG ON
DYNA MODELS 94-2005 models (revised 12-05)
WIDE GLIDE MODELS
Rear turn signal must be relocated to rear most hole on fender strut or replace to the rear hole with the Kuryakyn #2305 turn signal, or the new Panacea Tail light assembly click here to view. If bags purchased have the rear pouch the replacement with the Kuryakyn signal recommended.
ALL OTHER DYNA MODELS
For Low riders and Superglide models use the lay down license plate with signals, Boss Bags Part #LPS
STARTING ON RIGHT SIDE OF BIKE
NOTE: IF USING H-D DETACHABLES, REPLACE THE SPACERS IN STEP #1 WITH H-D SLOTTED PIECES
Remove the two 3/8" bolts from the fender strut. Replace these bolts with the 3/8" X 2 3/4" bolts from this kit, slotted buttons (B) and spacers (A) shown in photo #1. MAKE SURE THE WIDE SLOT BUTTON IS ON THE FRONT BOLT and the narrow slot button is on the rear. Tighten with provided 3/8" lock nuts.
Roller bearing install. On models earlier than 2002..... Remove the lower shock nut and washer. Discard washer, and replace washer with roller bracket as per photo #2 (flat spot down). Flat spot to be parallel to swingarm as shown in th photo #2 Loctite lower shock nut to factory torque setting making sure roller bracket does not twist.
2002 and newer.... The lower shock bolt enters from the outside with the nut in towards wheel. Bolt must be removed to install roller bearing and a bike lift may be necessary. Remove bolt, place the roller bracket in place with flat spot down as shown in photo #2 and tighten nut to factory torque setting making sure bracket does not twist.
To install bags on bike, open lid and peel up velcro vinyl cover, exposing inside lever and pull lever up. Slide bracket on the back rear of bag onto rear button on strut. Then lower front of bag onto front button on strut. MAKE SURE THE WEAR PLATE ON BACK OF BAG DOES NOT FOLD UP ON TOP OF ROLLER BEARING. Push lightly down on the lever. If lever does not want to go down fairly easily..DO NOT FORCE LEVER DOWN....... you may not have the bag low enough in the front OR you may not have the bag in tight enough to the bike for the lever to fall in the groove on the button. You may need to press the front part of bag closer to bike to be able to capture the slot on button. After lever is down you now need to tighten the bag against the roller bearing with the nylon strap. This is done by pressing on inside of bag at the point where the nylon strap is rivet with two rivets to the back of saddlebag while pulling up on strap, while keeping tension on strap bring strap on inside of bag and velcro it down. Now you may install the padlock on lever and velcro down the vinyl cover.
Repeat above for left side.
To remove bags you must peel back the velcro on nylon strap to relieve tension on the buttons. Then pull up on lever and tip front of bag up about 1 1/2" then move bag forward and off. You may need to press front of bag toward bike to be able to lift it up over the button.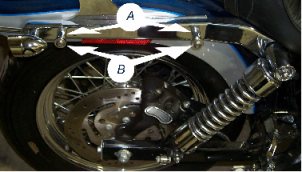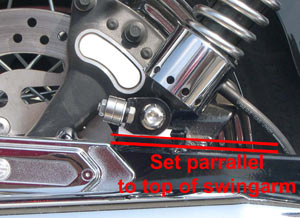 Photo #1 Photo #2
BOSS BAGS, INC.
111 INDUSTRIAL PARK AV.
HORTONVILLE, WI 54944
1-888-853-9975
bossbags1@aol.com