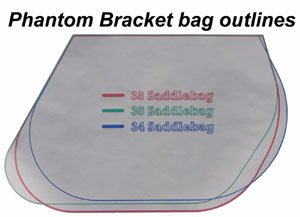 #34 , #36, and #38 BAGS: $925.00 & up
Our new #38 bag and our #34, and #36 bags all with "Phantom Brackets" fit your VTX like a glove and come off quickly leaving your bike without any ugly brackets left on your bike. Plain models start at $875, and that includes all of the mounting hardware. This system will work with OR without a Honda sissy bar. Phantom bracket bags go on and off the same way on all kinds of bikes...Click here to see a #34 bag get taken off of a Softail and put back on in less than 15 seconds!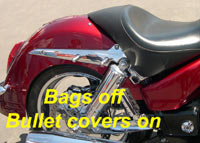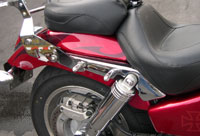 Above shown with Paladin and bullet covers on.
Click any photo to enlarge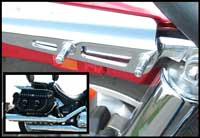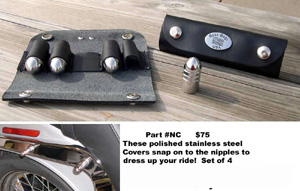 Dress up your VTX when bags are off with these polished stainless steel bullet covers
$75

Our Phantom brackets make our bags fit your VTX like a glove. The photo of the back side of the bags show our Phantom brackets. Position of bracket on the bag determines the bag height. Bracket lower makes bag sit higher for stock twin pipes such as Retro models. If you have put lower pipes on your bike, let us know. We can set up your bags like one on right to sit bag as low as possible.
Click here to see many photos of Boss Bags on all VTX models