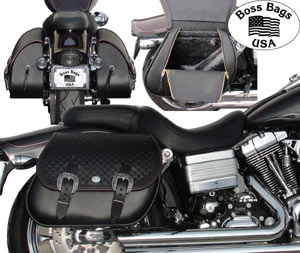 To see newest Dyna bags, click here
LEAVE YOUR DYNA CLEAN WITH BOSS BAGS:

Boss Bag's #31 series saddlebags can be plain, or add studs, or even removable front/rear bags.

With Boss Bags you can attach your bags to your bike quickly or remove and detach them quickly because the mounting brackets are included. All BOSS BAGS prices include mounting hardware (some 2006 and newer require addtional $45 kit) (click here if your Dyna is 06 or newer) , Master Locks™, & Leather Care Kit
*BAGS WORK WITH DETACHABLE SISSY BAR!*
**FXDWG 94-2005 with detachable sissy bar needs Lowrider detachable side plates (standard stock bolt on sissy bar is fine)**
Click on any photo to enlarge
Saddlebags have docking points to add front and rear bags. Saddlebags below are same bags without the docking points for front and rear bags. All mounting hardware is included to mount bags on bike on all models. (less turn signals)

DESCRIPTION #31 Bags:

DIMENSIONS: 13" tall, 22" overall length, 14"across the lid. 8" thick at top. Lid opening size 6" by 12 3/4"

The 31 bags feature a unique latching system that makes it easy to quickly disconnect the saddlebags from the bike, while also leaving only two little chrome buttons on the bike. Your bike will be left clean, with no ugly brackets. Click see a short movie of the #31 bag being taken off a dyna, and also the Panacea tailight option!

ALL DYNA MODELS REQUIRE A TURN SIGNAL SOLUTION (except Convertible.)

SOLUTIONS AT PAGE BOTTOM

Pricing and Options for the #31 Model

#31TS Studded
$845.00 pair
**Optional Bags for Front or Rear**
#RP Plain Rear
$80.00 per pair
#FP Plain Front
$80.00 per pair
#RP-S Studded Rear
$85.00 per pair
#FP-S Studded Front
$85.00 per pair

Click "Purchase" on the main menu for info. regarding: shipping, installation, and return policy...


DYNA ACCESSORIES

<the installation of Boss Bags may require you to relocate your turn signals>
Front / Rear Interchangeable Bags
available for #27, & #31 bags

#FP Plain front pouch $80.00 Pair
#RP Plain rear pouch $80.00 Pair

#FP-S Studded front $85.00 Pair
#RP-S Studded rear $85.00 Pair

Optional item for turn signal relocation:
2000 & newer bikes only.

Kuryakyn Panacea Taillight, Turn signal combination.
#4886 $185.00

#4833 $185.00 (smoke lens)

Boss Bags offers this as a turn signal option. Bright at nite but in direct sunlight these are not as bright as full signals.

(Blinkers / taillight / stop lamp all in one!)
see a demo movie of the Panacea

Optional item for turn signal relocation:
recommended for use with Wide Glides only

Kuryakyn turn signals:
#2305 $100.00

20 watt Halogen bulbs
Simple installation. No load equalizer required.

Optional item for turn signal relocation:
Lowriders & Superglides

License plate Laydown & turn signal relocation kit

#LPS $150

This option is for all Lowriders & Superglides. Comes preassembled. Buying it preassembled saves a lot of time on installation. Yellow lens are standard, red available on request.

#LP $80

w/o bulbs (using your old turn signals). This option is only for 2001 and older models. Will require you to drill a small hole into your rear fender for routing the wires.

BOSS BAGS Trunk Bag for sissy bar/luggage rack.
Invented thanks to customer demand!

#70 Plain trunk bag $360

#70S Studded trunk bag $385

#72 Plain w/pockets $460

#72S Studded w/pockets $495

These trunk bags are huge! Straps your sissy bar and luggage rack. They are hand made with fully reinforced leather & will never sag. Lockable, comes with Master locks.

TCC3 DYNA COIL COVER $129.99


Coil Cover for twincam models!


Chrome plated billet aluminum. Easy 2 minute installation. Fits over stock or screamin-eagle coils.

WATER BOTTLE HOLDER
$50 #WB
On those long rides in the summer, or those hot swap rallies, this water bottle can be your savior for thirst. A must have for hot days. clip can securely latch onto most things, and rubber tongs keep water bottle securely iin holder. Accessable even when you're driving.


Boss Bags PURSE!


Also can be worn as a fanny-pack.
$65.00
e-mail ?'s or comments to bossbags1@aol.com